2023 Women@MIT Fellows Announced
Image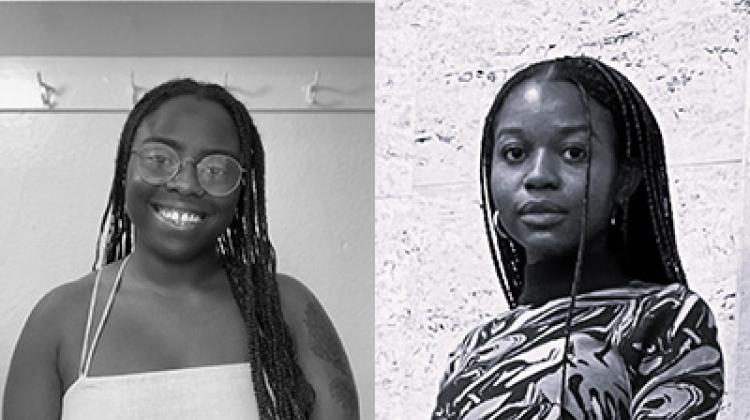 Published
September 19, 2023
Rachel Lane, Deborah Tsogbe, and Soala Ajienka will create interactive projects using archival materials from the Women@MIT Collections.
By Brigham Fay | MIT Libraries
Rachel Lane and the team of Deborah Tsogbe and Soala Ajienka have been named Women@MIT fellows for 2023 in the Department of Distinctive Collections (DDC). They will engage in archival research, using DDC's rich collections, to create projects that contribute to greater understanding of the history of women at MIT and in the history of STEM.
Deborah Tsogbe and Soala Ajienka: "Sisters in Making: Prototyping and the Feminine Resilience"
Deborah Tsogbe and Soala Ajienka will explore the unseen women, often referred to as "weavers," who were instrumental to the development of computers. Their project will focus on both the conceptual labor and physical labor involved in the weaving of core memory, a form of read only memory for computers that was first used in the 1960s for the NASA Mars space probes and then in the Apollo Guidance Computer.
"This work will bring focus to the full extent of women's contributions to groundbreaking STEM creations," said Tsogbe and Ajienka in their proposal. "Specifically it speaks to the practices of making involved in developing technical prototypes and how these practices parallel practices of traditional textile fabrication that women have long pioneered."
Their project will culminate with the exhibition of two large scale core memory prototypes composed of core memory modules with one memory containing the names, bios, and notes of the original weavers and another that is a remake of the core memory for the Apollo Guidance Computer, updated to modern specifications. Both of these will then relay their stored information in readable format to a visual display. Tsogbe and Ajienka will also document their archival journey through @w.eaving on Instagram, produce a bound volume of archival resources and illustrations, and lead an IAP workshop on "how to weave a computer."
Deborah Tsogbe is a recent graduate of the MIT Master of Science in Architecture Studies (SMArchS) in Computation program. Her work engages memory and comfort through the use of computational textiles and experiential design. Soala Ajienka is a current student in MIT's Masters of Architecture program. Through her work, Soala addresses questions of design heritage, material vernacular, and making in design practice.
Rachel Lane: "Mapping Migration at MIT: Eighteen Stories of International Women at MIT"
Oral historian Rachel Lane will curate an online exhibit highlighting the experiences of international women at MIT. Using oral history interviews of 18 women from the Women@MIT collections and the Science History Institute digital collections, she will create an exhibit using StoryMap JS, mapping experiences from each woman's country of origin, time at MIT, and position at the time of the interview to particular GPS coordinates and including short excerpts from the oral history interviews.
"In many respects, these women are double minorities, facing unique challenges as international students, postdocs, and faculty and as women in traditionally male-dominated STEM fields," said Lane. "This exhibit is an opportunity to highlight their experiences and voices. I am particularly interested in using oral history interviews because they allow people to speak in their own words and voices and often contain information not found in the traditional written record."
Lane is currently an oral history program associate at the Science History Institute in Philadelphia and previously served as digital cataloging assistant and intern at the Theodore Roosevelt Center and contextual content writer at Ancestry. She holds an MA in history from Norwich University and a BA in history and Spanish from Hillsdale College.
The Women@MIT Fellowship invites scholars, activists, artists, musicians, writers, and others to propose a project that showcases the Women@MIT collections in informative and engaging ways. In 2021, inaugural fellows Mariana Roa Oliva and Maya Bjornson created an immersive video game, "A Lab of One's Own," in which players discover archival materials that tell the stories of women from MIT's history.
The Women@MIT archival initiative seeks to add the records of women faculty, staff, students, and alumnae to the historic record by collecting, preserving, and sharing their life and work with MIT and global audiences. These efforts are made possible thanks to the generous support of Barbara Ostrom '78 and Shirley Sontheimer with the hope that this project will encourage more women and underrepresented people to become engaged in science, technology, and engineering. Extending from this initiative, DDC also is committed to acquiring, preserving, and making accessible the papers of gender non-binary and non-conforming individuals at MIT to help share their stories and contributions.