Blue-sky thinking and the next 150-year chair
Image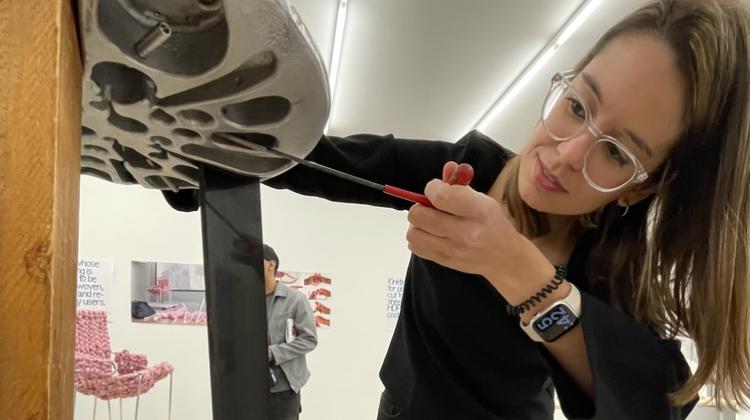 Published
January 31, 2023
Source
https://news.mit.edu/2023/blue-sky-thinking-and-next-150-year-chair-0131
MIT students studying advanced product design explored sustainable chair manufacturing and showed their work in a community exhibition space in Venice, California.
A major aspect of sustainability — a core component in many MIT School of Architecture and Planning (SA+P) courses — is considering the future effect of any given business practice or product. Sustainability was top-of-mind for Skylar Tibbits, associate professor of design research and director of MIT's design major and minor programs, and Jeremy Carmine Bilotti SM '21 when planning course 4.041 (Advanced Product Design) last spring.
Collaborating with the family-run furniture company Emeco, the discussion eventually landed on its famous "1006 Navy" chair. Designed in aluminum for U.S. Navy warships in 1944 and tested to last 150 years, the chair is meant to defy trends.
"The question arose: What's the next version of this?" says Tibbits. "Historically, when we talked about sustainability in design, we designed things that are supposed to last forever. That works well, but there are many other challenges, such as how do we make the furniture industry more sustainable, or how do we increase speed and efficiency in manufacturing?"
Emeco has a reputation for seeking out designers — such as Philippe Starck, Naoto Fukasawa, and Frank Gehry — to re-imagine some of its products. But, says Emeco's head of product development and sustainability Jaye Buchbinder, they wanted to work with MIT for another reason. Their goal, says Jaye, was to look to the students "for a fresh take on what it means to be sustainable, and thoughts and processes on sustainable manufacturing."
Emeco provided funding for the course and insight in sustainable furniture manufacturing for the students who would develop prototypes inspired by the iconic chair. The course would culminate in an exhibition of the students' work.
Constraints and creativity
To produce a prototype that demonstrates what future furniture may consist of and the technology to manufacture it, the five students explored a variety of paths while accounting for function and materials. Classroom and studio work were augmented with a visit to Emeco's factory in Pennsylvania, where students received an in-depth tour of its manufacturing process.
"Going to a real functioning factory was exciting for the students," says Bilotti, a lecturer in the design program and instructor for the class. "We were all like kids in a candy shop. They had an opportunity to see things they never would have had any exposure to."
Emeco chairperson Gregg Buchbinder says the tour provided a dose of reality for the students who, with the ease of computers, are used to creating things quickly.
"When you go to a factory and see every component being bent, welded, round down, heat treated, and hand finished, you realize that to get to a point where you end up with a product that lasts 150 years, it's complex and takes time," he says.
For their part, the students brought new perspectives. "These students approached manufacturing, sustainability, and product design just 'blue sky,'" says Jaye Buchbinder. "They kind of peeled it back to the level of 'What does furniture even mean?' and 'Why do we have these things and how should you interact with them?'"
Tibbits and Bilotti were also delighted with the creativity and thought the students brought to the project. Says Tibbits, the students' work wasn't "constrained by the realities of today" even though their work was informed by the factory tour and the experience of making furniture.
"There were able to open their lens up a little bit and give space to dream," he says.
What is a chair?
Although many students designed seating, all types of furniture were allowed as course projects. As a result, the reinterpretation of what "furniture" will mean in the future became a driver for creativity.
Maria Risueño Dominguez '22 says her first step in the design process was to ask herself what she really needed.
"I don't need a chair," she says. "I need a place to sit. That may be a chair, a stool, or some type of typology that we don't even know about today."
Considering her core need, looking at objects nearby, and thinking about how she could reuse these objects provided the basis for her approach. Benefiting from sessions at MIT's Hobby Shop, foundry, and International Design Center, Risueño Dominguez learned how to cast metal, ultimately designing a part of a piece of furniture, shaped like a disc, that connects to a variety of different materials and forms. The user determines if the piece is a chair, table, vase, or something else by adding found or designed elements in reach. The central joint, "la junta" in Spanish, is the basis for her furniture system.
"Part of the magic of this project was that I was able to get input from so many different departments at MIT and from all my teammates," says Risueño Dominguez. "It was not my project, it was everyone's."
Flexibility and adaptability were also a focus for Zain Karsan MA '18, a graduate student in architecture who used liquid metal printing to create several metal chairs with wood seats. The process is fast — a single chair can be produced within a few minutes — and completely recyclable.
Jo Pierre '21 approached the idea of flexibility using a simple medium: water. Recognizing that living spaces may be getting more compact, Pierre created room partitions using lightweight thermoplastic polyurethanes. When filled with water, the partitions support a private and visually interesting space. The user can drain the wall, roll it up, reuse it elsewhere, or store it.
"It creates an interesting visual screen between two spaces," says Tibbits. "Normally when you have quick screen walls, you often don't get great visual or acoustic or thermal separation. Something like water that everyone has access to allows for beautiful and functional division between spaces."
Using recycled high-density polyethylene, commonly used to produce plastic containers, Amelia Lee, a Wellesley College cross-registered student, designed a piece of furniture for children. Called the "Wable," the hard plastic sheet is folded origami-like into an ambiguous shape and can be used as a chair, sled, or even a table.
Faith Jones '22, who majored in mechanical engineering with a concentration in industrial design, explored the concept of the user customizing a chair. Starting with a basic metal frame, Jones used recycled yarns and, employing a variety of knotting and braiding techniques, created an upholstery around the frame. The knots for the "ReWoven" chair can be unknotted and the chair reupholstered in a different manner by the user.
"Faith took the least sustainable part of the chair, the textile, out of the equation and made it separable from the frame," says Bilotti. "That's a fundamental rethinking of the way things should be designed, making things separable that previously weren't separable."
Venice exhibition
Emeco House, a new community exhibition space in Venice, California, exhibited the students' work in November 2022. At the opening event, a steady stream of visitors examined the work and watched videos of the students explaining their processes. Gregg Buchbinder was encouraged to see guests linger over the pieces, saying that if attendees just walked through the exhibit, they'd "miss the point" of the work.
"What's really interesting is when you learn about the process and the thinking behind the work," he says. "That's where the ideas are really exciting because that's what will be applied to products 10 years from now."
Says Bilotti, "A part of why I love teaching is seeing what students are going to come up with. Their ideas are just so much more exciting than what you would see come to fruition in industry."
For Tibbits, the final products illustrated a new way for students to "see MIT, a school not historically known for the arts and design until more recently.
"It's a different vision for design. It's not the classic silos of product design. It's a polymath designer bringing the mind and the hand — the creative and the technical. For this class, it's a chance for students to see that we're not just in this academic silo where we make fairy-tale stuff that has no relevance. We work directly with furniture manufacturers who come to MIT to re-imagine the future of their industry. We are working on very relevant problems and our students take unique, novel approaches that are tied to how they would actually manufacture a product. These ideas are not only realistic, but ambitious and unique."