Image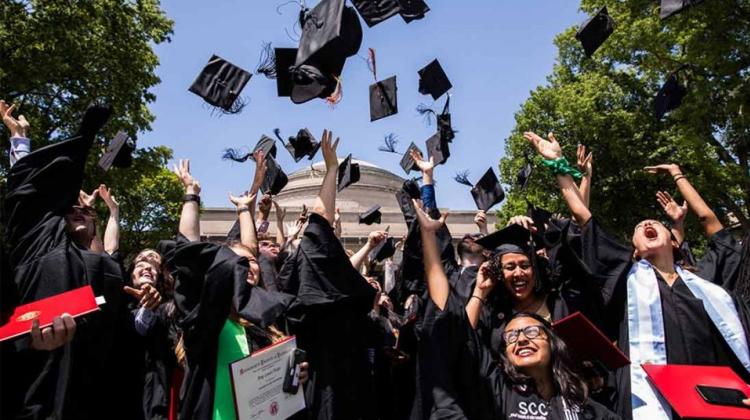 SA+P Advanced Degree Ceremony 2023
The SA+P Commencement Ceremony will take place on Thursday, June 1, at 11:00 am in Kresge Auditorium.
Boston Mayor Michelle Wu to Give SA+P Advanced Degree Ceremony Address
The Honorable Michelle Wu, Mayor of the City of Boston, will deliver the keynote address to graduates and their guests at the Advanced Degree Ceremony in Kresge Auditorium.

About the speaker (from the Mayor's website)
Michelle Wu is the first woman and first person of color to be elected Mayor of Boston. The daughter of immigrants, a Boston Public Schools mom, and an MBTA rider, Mayor Wu believes that the key to solving our deepest challenges lies in building community and embracing possibility.
In her first official act as Mayor, Wu signed an ordinance divesting City funds from fossil fuels, private prisons, and the tobacco industry. In her first week, she worked with the City Council to make three Boston bus lines—which serve predominantly Black and brown neighborhoods—fare-free for two years. 
To take decisive action against climate change and improve conditions for Boston Public Schools' students, teachers, and families, Mayor Wu has launched a Green New Deal for BPS: A district-wide effort to dramatically reduce building emissions, renovate old facilities and construct new ones, and modernize Boston's education system. And, following the science on the critical role that early childhood plays in determining life outcomes, Mayor Wu has expanded early childhood services—granting thousands more 3- and 4-year-olds access to high quality, culturally-relevant education and care.
In addition to creating a new Office of Early Childhood to oversee these changes, Mayor Wu also established Boston's first-ever Offices of Food Justice, Black Male Advancement, LGBTQ+ Advancement, and Worker Empowerment. Together, these achievements align Boston's climate, infrastructure, education, and investment strategies with Boston's values, laying the foundation for a greener, more efficient, more equitable city for generations to come.
Mayor Wu got her start in public service interning at City Hall under Mayor Tom Menino while studying at Harvard Law School. She is an alumna of the Rappaport Fellows Program in Law and Public Policy, the recipient of the Massachusetts Democratic Party's Franklin and Eleanor Roosevelt Award, and was named one of The Boston Globe's 2021 Bostonians of the Year. Mayor Wu lives in the Roslindale neighborhood of Boston with her husband, Conor, and their two boys, Blaise and Cass.
List of Graduating Students (to come)
Advance Information for Graduating Students  
Graduates are eligible to receive up to four (4) guest tickets to the OneMIT Commencement Ceremony and four (4) guest tickets to the School of Architecture and Planning Advanced Degree Ceremony.
Obtain regalia, PhD hoods, and masters cords
Learn about your regalia options. If you are ordering regalia, please do so by April 14.
PhD students: You will receive your hood on stage as part of the ceremony. Unlike the regalia that you may have chosen to rent, this hood is yours to keep as a symbol of your momentous achievement.
Masters students: As part of this new tradition of hosting a School ceremony, we have ordered cords for you. Each program has selected a cord color that represents them: red for Architecture, green for ACT, orange for DUSP, blue for CRE, and white for MAS. You should arrive wearing your cord over your gown. Cords can be picked up in 7-307 during the following times:
May 25, 2:00-3:30 pm
May 26, 10:00 am-12:00 pm
May 30, 10:00-11:00 am
May 31, 9:30-11:30 am
If you need to send a proxy to pick up your cord, please send their name to Julia Carolan (jcarolan@mit.edu).
Provide name information
To record your name, go to the NameCoach website and authenticate via Touchstone. Click on Link to your Namebadge and then Record Your Name. You will then have the option to record your name using your computer or phone, or to upload a recording.
If you miss the recording deadline, have technical difficulties, or choose not to make a recording, this has no bearing on whether your name is announced at your ceremony. If you are on the degree list and participating, your name will be called.
Day of graduation details
Arrive at the Johnson Athletic Center at 10:00 am. After checking in, you will be directed to your position in the procession. The details for walking across the stage, including diagrams, will be sent to you separately.  
Advance Information for Faculty
For information about regalia and tickets, please visit MIT's Commencement website. Please arrive at the Johnson Athletic Center to line up for the procession at 10:00 am. 
SA+P Department Celebrations 
Architecture: May 31| May 31 | 4:00–6:00 pm[, Walker Lawn
Center for Real Estate: May 31 | 6:00–8:00 pm Eastman Court
Media Arts & Sciences: May 31 | 2:00–4:00 pm E14, 3rd Floor Atrium
Urban Studies and Planning: May 31 | 2:30–4:30 pm, Eastman Court
Additional MIT Celebrations

Black Graduate Celebration (BGC): April 21| 5–7pm
The Black Alumni of MIT (BAMIT) are planning the upcoming 2023 Black Graduation Celebration (BGC), tentatively scheduled for April 2023. The theme will be "The Ache for Home," a reference to a quote by Maya Angelou. Please visit BAMIT for updates.
Lavender Graduation: May 4 | 4:30pm
Lavender Graduation is a celebration of the end of the year and a recognition of our distinguished graduates from the LBGTQ+ and ally community. This year's celebration is scheduled for May 4, 4:30pm, at Burton-Conner Porter Room. If you have any questions, please email Lauryn McNair (lmcnair@mit.edu) or Jeremy Torres (ejtorres@mit.edu). All are welcome during this end-of-the-year community-wide celebration! Please visit LBGTQ+ Services' website for more information.
Latinx Graduation: May 31 | 9am–1pm
The Latinx Graduate Students Association (LGSA) and Latino Cultural Center (LCC) are coming together to plan MIT's first-ever Latinx-focused graduation celebration for undergraduate and graduate students alike on May 31 from 9am to 1pm at the MIT Media Lab. Our collective vision is to have an esteemed guest speaker who will be introduced by faculty, alumni, and the leaders of the Latinx student organizations, on a day that will include refreshments and photo opportunities of the awarding of stoles to be worn by graduates during the OneMIT Commencement ceremony the following day. We hope this groundbreaking event will honor the sacrifices of both our students and their families and will become an established tradition for years to come. Latinx Graduating students can reserve a stole and RSVP form by April 21, 2023.
MOSAIC Graduation: June 1 | 8–10pm
MOSAIC (MIT Outstanding Scholars: Achieve. Inspire. Change.) is a celebration of our graduates sponsored by Intercultural Engagement (i.e.), the Office of Minority Education, and the Office of Graduate Education. Open to the entire MIT community and to the family and friends of MIT graduates, this celebration traditionally takes place in June. Following the OneMIT Ceremony on Killian Court, this year's MOSAIC event will be a formal dance from 8 to 10pm at Walker (Building 50). Please visit the i.e.'s website for updates and additional information.
Questions about the SA+P Advanced Degree Ceremony?
Email: sap_graduation@mit.edu