Nida Sinnokrot awarded 2023 Soros Arts Fellowship
Image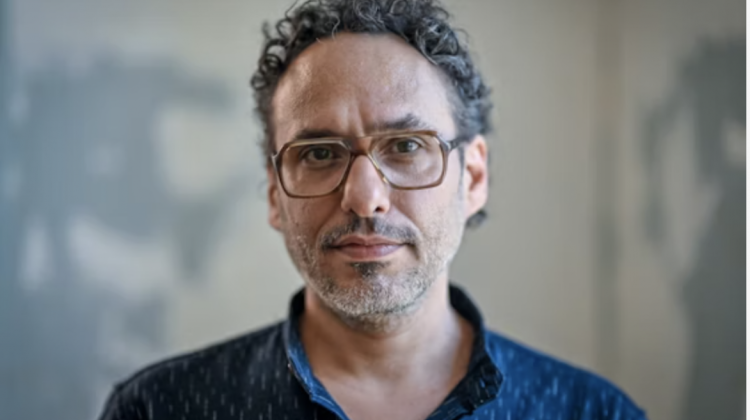 Published
November 2, 2023
The ACT professor will produce a series of collaborative and site-specific sculptures that uplift indigenous knowledge practices as part of his 18-month fellowship.
By MT ACT
The Soros Arts Fellowship supports innovative mid-career artists and cultural producers advancing social change around the world. The fellowship provides artists with the resources to develop a large-scale project on their own terms in their own local contexts.
As part of his 18-month fellowship, ACT Associate Professor Nida Sinnokrot will produce a series of collaborative and site-specific sculptures that uplift indigenous knowledge practices; employ artistic, agricultural, and land-based ecological processes and participatory approaches to expand current discourse and action on environmental justice; and activate public spaces in ways that are resonant and impactful for Palestinian and indigenous communities globally. Storytelling Stones: How far does your mother's voice carry? aims to reclaim cultural memory through the collective act of relocating a mintar: an emblematic circular dry-stacked stone structure used in Palestine as temporary abodes during harvest seasons. Through collective disassembling, moving, and reassembling of the mintar, the project will, for the first time in recent history, engage a wider public in the building of a mintar and the making of a new public space, one stone at a time. This project is a work in progress that reactivates dry-stack stone construction, bringing together sound art, environmental art, new media, and heritage, and transforms stone structures into active environmental sculptures or "echo-chamber."
Sinnokrot is an artist and educator whose artwork exposes the buried infrastructures of control that give rise to shifting social, political, and environmental instabilities. Sinnokrot's films, videos, photographs, sculptures, installations, and agricultural community practices promote critical and civic engagement through shared experience to better understand the imperialist origins of structural violence, dismantle them, and cultivate spaces for collective action and emancipation. He is a co-founder of Sakiya – Art | Science | Agriculture, an international residency program and research platform in Palestine, and a faculty member of MIT's Art, Culture, and Technology Program (ACT) in Cambridge, Massachusetts. Sinnokrot's work has been featured in recent solo exhibitions at Kunst-Station Sankt Peter, Cologne, (2019–2020); Carlier Gebauer, Berlin (2018–2019); KIOSK, Ghent (2018); and Darat al Funun (2014). Sinnokrot's first feature film, Palestine Blues (2006), a documentary on Palestinian farmers' struggles in a disappearing landscape, was screened in over 30 festivals worldwide and won seven awards for Best Documentary.
This year marks the fellowship's largest cohort, awarding 18 artists from around the globe 100,000 USD each to pursue ambitious projects that propose bold solutions to address the climate crisis, reclaim and uplift indigenous knowledge, and imagine and build sustainable futures.
Open Society's 2023 fellowships are centered around the theme of "Art, Land and Public Memory," focusing on artists who are pursuing projects that offer tangible solutions to address environmental harms. The fellowships recognize artists from around the world—from Brazil, Colombia, Guinea, Iraq, Mexico, Morocco, Palestine, Philippines, Portugal, Puerto Rico, St. Maarten, South Africa, Syria, Mandan, Hidatsa, Arikara, Lakota Tribes, the US and their diasporas. Their work also engages communities in which they work across the Global South, places often on the frontlines of the climate crisis and environmental injustice driven by global settler colonialism, capitalism, and white supremacy.
"Art and culture are essential drivers for social change," said Tatiana Mouarbes, Open Society's Team Manager for Culture and Art, Expression. "One of the greatest challenges of the 21st century is the health of our planet. Through their art and culture work, the 2023 Soros Arts Fellows are taking action to help heal a planet in crisis through community-led solutions for environmental justice. We are proud to support their visions."
In addition to unrestricted funding, the fellowships offer recipients a holistic suite of services and resources to help the artists build sustainable artistic careers, including leadership development, mentorship, peer-to-peer exchanges, and networking opportunities.
Working in diverse forms and global contexts, the 2023 Soros Arts Fellows are: Bilia Bah (Guinea), Cannupa Hanska Luger (Mandan, Hidatsa, Arikara, Lakota Tribes/USA), Carolina Caycedo (Colombia/Latin America/USA), Chemi Rosado-Seijo (Puerto Rico), Ixchel Tonantzin Xochitlzihuatl (Ecuador), Dalton Paula (Brazil), Deborah Jack (St. Maarten), Kenan Darwich & Sami Rustom (Lebanon/Germany), Jordan Weber (USA), Martha Atienza (Philippines), Molemo Moiloa (South Africa), Mónica de Miranda (Portugal), Nida Sinnokrot (Palestine), Omar Berrada (Morocco/North Africa), Rijin Sahakian (Iraq/USA), Sari Dennise (Mexico), Yto Barrada (Morocco).
With a long history of supporting arts and culture to advance social change, the Open Society Foundations recognizes the importance of artists' contributions and the essential role that art plays in civic discourse and open societies. In particular, the foundations seek to honor the aesthetic, political, and capacity needs of arts leaders, individual artists, and cultural activists.
Since 2018, the Soros Arts Fellowship has awarded more than three million USD in unrestricted funding to 29 artists around the world; this year's 1.7 million USD investment is the largest annual amount to date. The fellowship was on a hiatus from 2021-2022 during the height of the COVID pandemic, when more than 500,000 USD was awarded to support existing fellows.
The 2023 fellowship selection committee includes Azu Nwagbogu, Curator and Founder of African Artists' Foundation; Diane Lima, Curator of the 35th Bienal de São Paulo; Eriola Pira, Curator at the Vera List Center for Art and Politics; Helena Nassif, Director of Culture Resource (Al Mawred Al Thaqafy); Paulina Suárez, General Director of Ambulante; Rocío Aranda-Alvarado, Senior Program Officer, Creativity and Free Expression, Ford Foundation; Siobhan Riordan, Consultant and Creative Strategist; Tania El Khoury, Artist and Director of the Center for Human Rights and the Arts at Bard College; Open Society's Culture and Art staffers Tatiana Mouarbes, Ayoka Wiles, and Ibrahima Niang, and Alvin Starks, Director, Narrative and Culture Change at Open Society-United States.